Become a TCR expert
TCR is a leader in Ground Support Equipment (GSE) for airports and has an international and national presence. We are now established in 20 countries across Europe, Middle East, US and Asia Pacific at over 130 airports.
Recruiting people who reflect our values is essential to delivering our Vision at TCR. Here you get the best of both worlds: an entrepreneur's mindset with the passion to succeed. Our collaborative culture and worldwide footprint open an array of new opportunities.
Every person we employ is a champion and role model for better work and working lives. We welcome talent from a diverse range of backgrounds and are always on the lookout to strengthen our teams locally and globally.
Countries

0

Employees

0 +

Presence in airports

0 +

GSE assets for rental

0 +

units

Why work at TCR:
Our culture allows our 'Experts' to thrive and flourish, by providing a comprehensive training platform for bright talents to develop.
Testimonials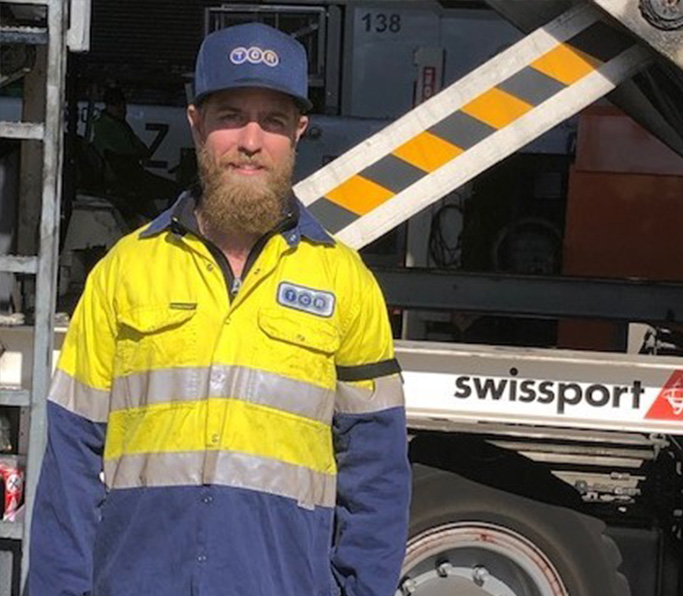 SAM
Supervisor Sydney Airport
Sam started with the company as a mechanic – due to his commitment and consistent skill development he was soon promoted into a key leadership role – he is now one of our Sydney workshop Supervisors.
"The most enjoyable elements of working on Ground Support Equipment at the airport is the variety. There is never a boring day, it's always interesting with guaranteed problems to solve"
Our values
Passion

Our passionate employees are the driving force behind TCR. Together, as one powerful team, we achieve great things.

Integrity

Our values are our strength. TCR is a great place to work, where we treat everyone with trust and respect.

Responsibility

Experts take responsibility for their actions. Every employee is an expert in his or her field. We do what we say and say what we do.

Open-mindedness

We are entrepreneurs with a pragmatic approach. We inspire each other and use our creativity to find solutions.
ABOUT TCR
World leader company in GSE
TCR is a world leader in Ground Support Equipment Solutions. Our core business is rental and maintenance of ground support vehicles. We make sure that large logistics companies and airlines always have the best vehicles at their disposal. From Belgium to Australia, from luggage carrier to airplane tractors.